Bathroom Cabinet Painters
Transform the heart of your bathroom with our exceptional bathroom cabinet painting services. Breathe new life into dated cabinetry, effortlessly merging style and durability. Dive in to discover how a simple coat of paint can redefine your space and reflect your unique taste.
Understanding Bathroom Cabinet Painting and Refinishing
Bathroom cabinet painting, often known as refinishing, is both an art and a skill that delves deep into the world of doors and drawers. Instead of replacing the entire cabinet or bathroom vanity, which can be costly, this process refreshes the cabinet doors and drawers. As a result, your existing cabinets will look brand new.
This practice mainly focuses on the door and drawer fronts and uses wood veneers to achieve the desired transformation. In busy cities like Calgary, professional painters from top painting companies bring style and function to their jobs. Bathroom cabinet refinishing is a great option for homeowners who want a quick, efficient, and affordable home improvement.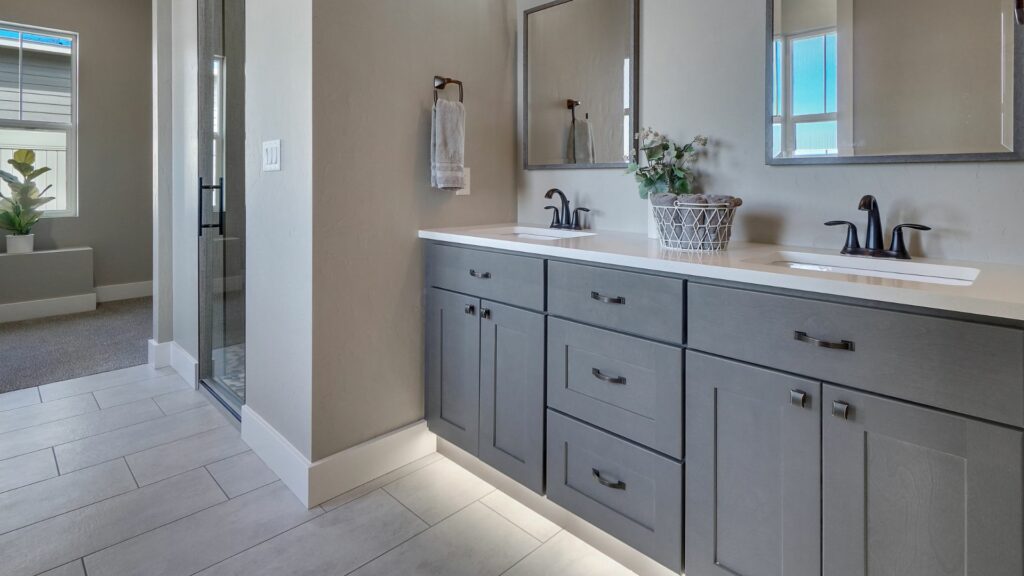 The Advantages of Cabinet Refinishing Your Bathroom Cabinets
Cabinet refinishing by skilled experts in Calgary saves you money compared to buying new cabinets. You get a refreshed appearance for a fraction of the cost.
This service reduces environmental waste. Refrain from discarding your existing cabinets and play your role in green conservation.
Gone are the weeks-long waits for renovations. The painting process, when conducted by quality painting professionals, wraps up in a handful of days, contingent on your cabinet's condition.
Whether you're inclined toward refaced cabinets or a custom cabinet look, Calgary's palette offers plenty of colors and finishes. Ensure your bathroom resonates with your distinct style and predilections.
Such renovations often pump up home valuations, shining as a wise pick for those with an eye on future property sales.
We provide a free quote for all our painting projects, dive deep into your needs while evaluating the state of your cabinets.
The prep phase cleans the cabinets, unhooks hardware, and sands away any imperfections.
Professional painters, with over 20 years in the business, skillfully apply your chosen paint or stain, delivering an even coat and a polished finish.
A protective finish layers over the main application, sealing the deal on durability and longevity.
The once-removed hardware returns to its rightful place, and a final check assures cabinet functionality.
Our painting company, revered for its immaculate finishes, guarantees a spotless home post-service.
Rekindle, refresh, and lavish your bathroom cabinets with the adoration they yearn for, all under the expert hands of 403-Painter, calgary painters extraordinaire. For unrivaled excellence in bathroom cabinet refinishing in Calgary, get in touch now!
Decades of bathroom cabinet refacing services in Calgary has sharpened our team's skill set, enabling delivery of faultless results.
We are uncompromising in our material choices, ensuring longevity in our services.
Our devoted and passionate crew views each project through a lens of precision and care.
Our value system revolves around customer contentment. With 403-Painter, you aren't merely accessing a service, you're placing a premium on quality and trust.
As a cornerstone of the Calgary community, we effortlessly navigate local tastes, inclinations, and challenges, paving the way for a seamless experience.