When you choose 403-PAINTER for your stucco painting projects, you're not just refreshing your home's appearance—you're reinvigorating its character. Our palette of top-quality paints includes an array of hues and finishes that can be tailored to reflect your style, enhancing not just your home but also its surrounding environment.
Calgary's climate poses unique challenges to exterior surfaces. Standard paints may crack or peel with temperature fluctuations, but not ours. Our high build elastomeric coatings are specifically designed to expand and contract with your stucco surface. This advanced material technology provides an added layer of protection against the elements, safeguarding your home through every season.
Long-lasting beauty is not just a promise; it's a guarantee when you choose 403-PAINTER. Our meticulous attention to detail during the preparation and painting process ensures the highest quality finish that stands up against time and weather. The result is a stucco exterior that not only looks new but stays that way for years to come.
Before we even open a paint can, we assess the condition of your stucco. Our comprehensive stucco repair services address any minor issues that could compromise the final appearance. After repair, a high-pressure washer is used to remove grime, mildew, and any loose paint, ensuring a pristine surface ready for painting.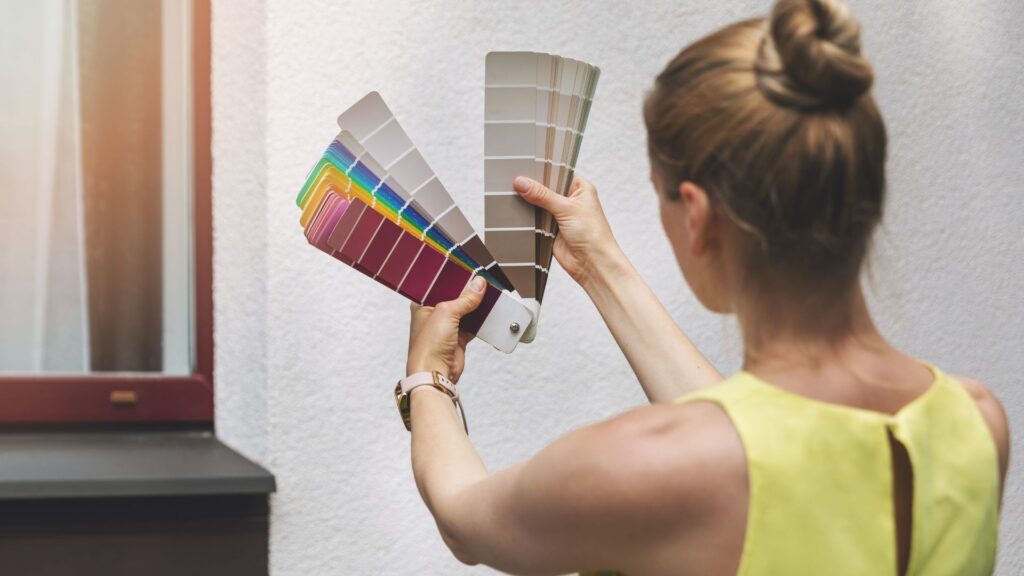 Why Choose 403-PAINTER for Stucco Painting?
At 403-PAINTER, painting is more than just applying a coat of paint. Our stucco painters in Calgary have been meticulously trained, understanding every nuance that makes stucco unique.
Every stucco painting project is a testament to our commitment to quality. We only use the highest quality paints that promise longevity and stunning aesthetics.
Your time is valuable. Our efficient processes ensure that our painting projects are completed promptly, letting you revel in the renewed beauty of your home.
Renovation projects can be disruptive. But with us, the process is seamless. We leave your space spotless, letting the newly painted stucco exterior shine.
Step into a world where quality meets craftsmanship. Choose 403-PAINTER for your stucco painting needs in Calgary, AB, and watch your home transform.
Our Staining and Painting Process
The first step of any successful project is understanding the client's needs and the home's requirements. During our initial consultation, we discuss your vision, conduct a detailed inspection to assess the type of stucco and its condition, and offer a transparent, no-obligation estimate. We'll also provide samples and swatches to help you visualize the final result.
We believe in doing things right the first time. Using a high-pressure washer, we rid the stucco of years of dirt, grime, and any peeling paint. If there are cracks or other signs of wear, our skilled craftsmen perform necessary stucco repair, ensuring that the painting surface is as smooth as possible.
Then, we apply a primer that helps the paint adhere better and last longer. We take every precaution to protect your plants, windows, and other exterior features during this stage.
Armed with top-quality paints and elastomeric coatings, our team of stucco painters in Calgary meticulously applies the chosen colors to breathe new life into your home. During this stage, we use multiple coats of paint to ensure an even and rich color that will enhance your home's visual appeal and durability.
4) Quality Checks and Completion
Quality is not just a buzzword at 403-PAINTER; it's a commitment. After the painting is completed, our team goes over every inch of the surface to ensure uniformity and precision. Any areas that require touch-ups are addressed promptly. Finally, we conduct a thorough cleanup and remove all equipment, leaving your property as pristine as we found it.
5) Final Inspection & Aftercare
Before declaring the project complete, we invite you to a walk-through to make sure you're 100% satisfied with our work. We'll also provide you with guidelines for maintaining your newly painted stucco surface, which will help you keep your home looking its best for years to come.