Commercial Interior Painting Services
When it's time to paint the interior of your commercial space, you need a team that understands the importance of your business operations, respects your time, and commits to delivering an exceptional finish. 403-PAINTER is ready to step in as that team. With customer service that's second to none and a painting team that's eager to transform your space, we're just a call away. Get in touch with us today for your free estimate, and let's start planning your next commercial painting project.
Understanding Our Commercial Interior Painting Service
As an experienced commercial painting company, we know that the interior of your business is more than just walls and ceilings—it's a representation of your brand and a backdrop to your daily operations. That's why our commercial painters take great care in delivering a finished product that embodies professionalism and attention to detail.
Whether it's refreshing the vibrant colors of a retail space or creating a calm ambiance in an office, our commercial interior painting services are designed to align with your vision and the functional needs of your space. We tackle each project, big or small, with the same level of commitment and excellence.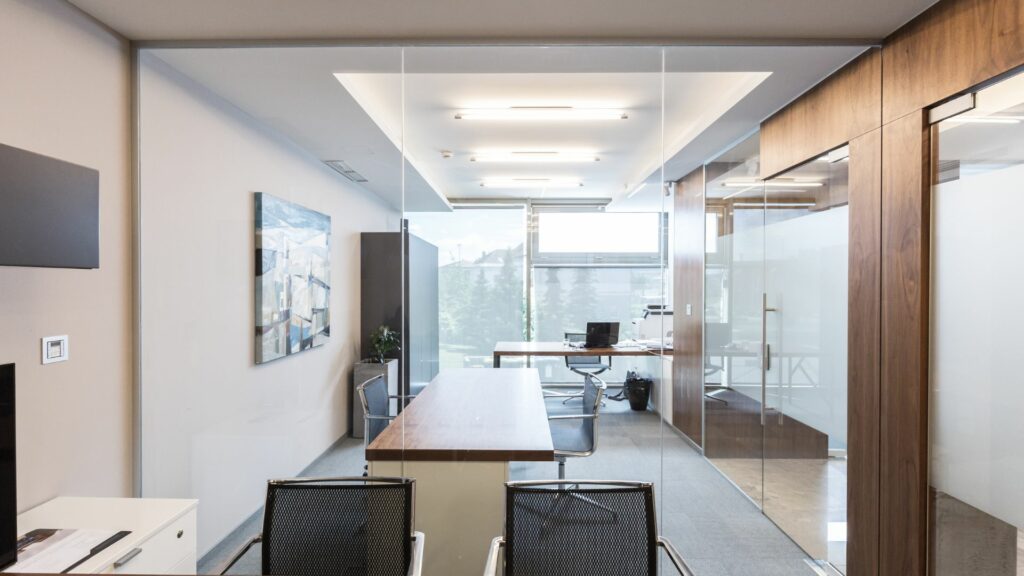 The Advantages of Commercial Interior Painting
A professional paint job from a reliable commercial painter like 403-PAINTER can have a lasting impact on your business. Here's why:
Crisp, clean walls painted by a team of professionals can boost your business's image instantly. Our office painters are ready to help you pick the right colors to match your company's style and make a great impression.
Studies have shown that the environment can significantly affect work performance. Our painting contractors consider this when helping you choose the perfect palette for your commercial space.
Protection and Maintenance:
Regular painting by a seasoned painting team not only keeps your commercial buildings looking fresh but also acts as a protective barrier against the daily wear and tear.
Rest assure all our paints that are safe for your clients and team, adhering to the latest health guidelines.
The Process : Office Painting and More
Our commitment to a top-quality painting process is what sets us apart from others:
It all begins with a detailed discussion. Our commercial painting experts will provide a free estimate, ensuring there are no surprises.
We're meticulous about prepping your space, including moving furniture and protecting your flooring. This step is crucial for a clean, sharp finish.
Our commercial painters have the skills to apply paint flawlessly, whether it's a single room refresh or a multi-floor project.
After painting, we meticulously inspect our work to meet our stringent standards.
A thorough cleanup is part of our process, ensuring your space looks its best when we're done.
Selecting 403-PAINTER means partnering with a painting company that cares about your business:
Experienced Professionals:
Our painters are not just skilled; they bring years of experience to every job, ensuring the results are consistently outstanding.
We work swiftly and effectively, aiming to minimize the impact on your business operations.
High-quality materials are a guarantee with us, giving you a finish that lasts longer and looks better.
Your happiness with our work is our driving force. We aim to exceed your expectations every time.
Being fully licensed and insured, we offer peace of mind with every job we undertake.